New Orleans Katrina Benefit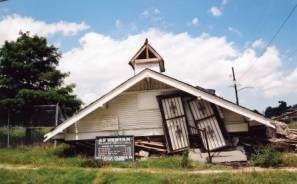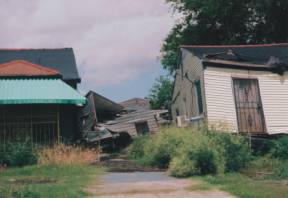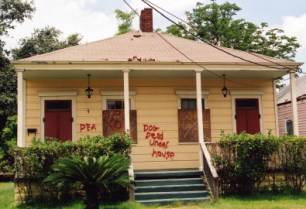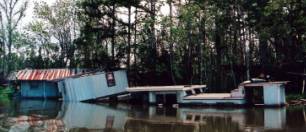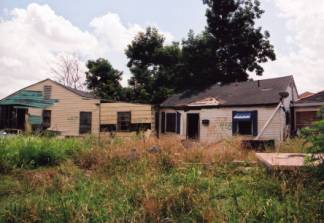 In June, 2006 we went to New Orleans. Ten months after the wrath of Katrina. These are images I shot, mostly in the Ninth Ward. It looked like something you would see in the war zone of Iraq, and surely not in America. Tears fell and my heart ached for those many souls whose lives were destroyed in the devastating flood.
The crime is that these sights were still there ten months after the horrific event. Streets were deserted. Broken homes and dreams abounded along with wrecked cars, and boats strewn about like toys. Trash and debris were everywhere, but no people, no urgency. Just a sunny day, with blue skies, and empty empty lots, where people had once lived and laughed and made lives for themselves. It seemed like New Orleans had been forgotten, forsaken. In my heart, I knew we could do better, HAD to do better.
To me, being an American means you stand for something, that you help your neighbor, that you do the right thing. Standing there that day, feeling shocked, overwhelmed, helpless, and very angry, I resolved that I had to step up and get involved.
What I have to offer is my photography. I went through my images and put together two collections of nine photos. The first is the "Doors of New Orleans Collection" and is comprised of the grand old doors adorning the Garden District, as well as the French Quarter. The second, "Iron Work of New Orleans" captures the gorgeous wrought iron balconies and gates that are synonymous with the Crescent City. They are both a reminder of all that is the best and most wonderful in this unique and amazing city, and what we are trying to save and to rebuild. As one woman told me, " We need to work together to help people reclaim their lives, their homes, their city." Amen to that.
These images will be available to order matted individually in a variety of sizes, in Collections of Nine, or Three, and as cards. I will donate a percentage of every sale to the relief efforts.
I strongly urge you to participate in this worthy cause, as the need is dire. Not only will your generosity help those in need, but you will receive a beautiful collection of New Orleans photos as my way of saying "thank you." We CAN make a difference! Please, open your heart, reach across the miles and spread some love and hope. Thank you from the bottom of my heart,
Beth Mostovoy
Special thanks to David Anderson for his great photographing the New Orleans Artwork. You can contact David at dwa3708@comcast.net or 650-298-9296.
Doors Of New Orleans 9
Doors Of New Orleans 3
Iron Work of New Orleans 9
Iron Work of New Orleans 3
Honeybear Prints Photography
To order, please contact: Beth Mostovoy, Honeybear Prints
Email: mostovoy@honeybearprints.com
Phone: 650-369-5607